I have used Android for a long time now and it was way superior to the Symbian OS that was quite famous those days.
I tried iPhone by chance not by choice. My mom struggles to use these Android phones. She can get to an app through icons but cannot make it back to the home screen. She often struggles to navigate through these options.
None of the apps remain in position. One day the phone icon is at the bottom neatly aligned but the next day you have to swipe to find it.
But she likes to watch Youtube, take photos, listen to music, etc.
My mom will like this phone!
I thought I will give her something simple to use - a used iPhone. I got it for a decent price($100) with everything working well. When I bought it, she was outside for a week so I used it with my SIM in it.
But before I tell my experience using this phone let me tell you a few complaints I have about the recent smartphones.
they are big and heavy.
they have less battery backup.
they have curved bezel.
requires deep pockets to own😅
Why would anyone make a phone with curved bezel?
I tried to come to terms with it but I just can't. It makes the phone look futuristic and all but at what cost?
it reduces battery life.
you will always be touching the screen.
if the phone falls then the screen certainly gets damaged.
phones become a lot more slippery.
Curved bezels are bad.
I do not know why multiple smartphone manufacturers do this.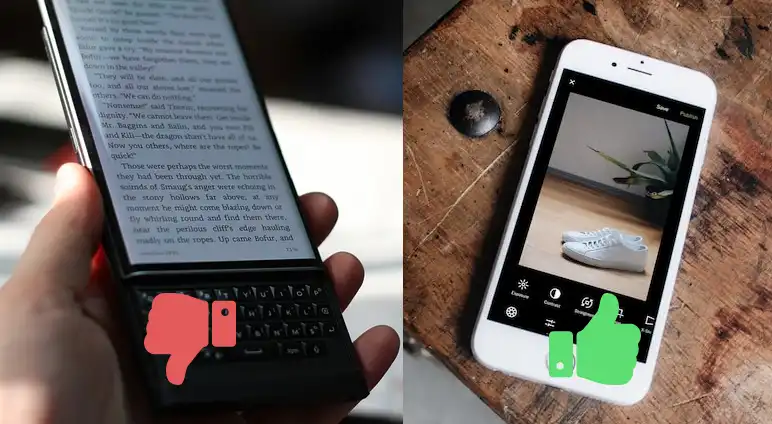 The phones we use today are yesterdays tablets!
Phones these days are so huge that the apparel manufacturers are designing deeper pockets.
Along with a case or cover the phone literally looks like a panzer.
A bigger phone has more cons than pros.
hard to carry.
low battery backup.
comes with an even bigger charger.
hard to use it with one hand.
They have come up with a one-handed mode these days!
Phones are meant to be used in one hand!
Stop making bigger phones. Make the small phones better.
iPhone 7 is so good
Coming back to my experience with the iPhone:
Surprisingly - me being an Android guy - got impressed with how it is built! Except for a missing headphone jack, everything about this phone was good. You cannot say the same thing for many Android phones.
It is small(iPhone 7), easy to hold, and easy to carry in pockets.
One button to come back home(fewer decisions to make).
Low to no customization options(which is good for consistency).
Bezels are big enough to avoid any accidental touch while using the phone.
Screen lights up when I pick it up from the table!
Many other small things make this a great phone.
I'm thinking to switch to iPhone. I don't game on phones(I don't game actually). This was purely for calls, calendar, whatsapp, and email. This phone handles all of these amazingly well.
Simple yet powerful
I wish I had realized this sooner. Maybe I would have used the same phone for years. My android phones usually last for 3 years. But I have a feeling that these iPhones will last longer.
Update
Looks like I'm going to keep the iPhone 7 for myself! I have bought an iPhone 5s for my mom. I have disabled appstore and other apps she doesn't use. I don't think this feature is available in Android.
In the future if I get her a newer model of iPhone she will know exactly how things work. Thanks to iPhone for retaining the same layout, icons and settings.
Find related articles